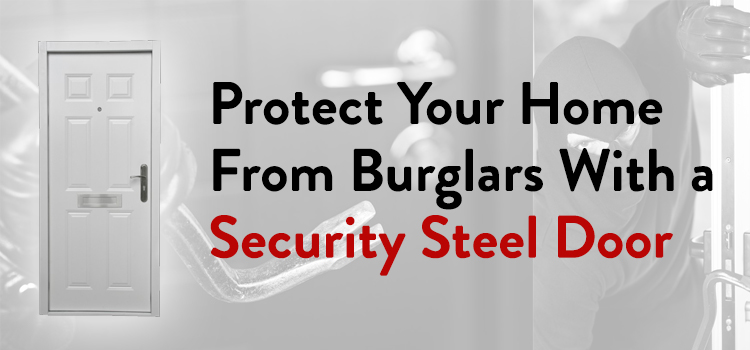 Dublin householders have been urged to be on their guard after figures revealed a surge in the number of break-ins across the capital last year.
Less than five per cent of all doors currently available on the Irish market contain a steel door frame and as a result are unable to meet the Garda recommended security levels demanded by the new Irish and EU Burglary Resistance Security Standard for entrance doors; IS EN1627:2011.
19 Point Locking High-Security Home Steel Door Set, including the locking system, thick steel, high-security hinges, this new innovative door is a must have and is not comparable to your standard UPVC door. Its' 6 panelled embossed steel door leaf and white powder coat, with letterbox and spy hole leave the doorset looking domestically aesthetically pleasing; whilst giving the same amount of security as the 'industrial bred' personnel door. Together with the 14 points of locking, the 4 dog bolt's and the latch, 19 points hold the heavy duty steel door leaf securely in its' frame.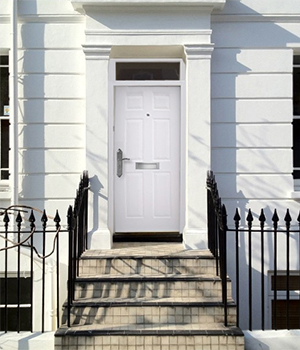 The Steel Home Security Door Specifications:
UPVC style Hooply handle.
Heavy duty white textured polyester powder coated finish.
(The powder coat finish can also be used as a base coat to be painted on top of.)
High quality draught and weather proof seals pre-fitted.
4 Stainless steel heavy duty hinges.
4 Dog bolts (fixed locking points).
DDA (Disability Discrimination Act) compliant threshold.
Anti jemmy bar lip all around the door leaf, including the hinge side.
Reinforced fixing plates.
Thick chrome plated mild steel lever handles.
(Heavy duty stainless steel handle upgrade is available to increase security.)
High security heavy duty 14 point locking shoot bolt mechanism.
Added strengthening plates to reinforce frame.
Internal frame welded case work to protect shoot bolts from falling debris.
Drill and impact resistant locking system.
(Door Frame: 2mm galvanised steel.)
(Door Leaf: Double skinned 1mm galvanised steel.)
Fully welded construction for optimum strength (all of door leaf and frame).
Euro profile cylinder with unique ABC key system.
Dense fire board core in door leaf, used for its high thermal, acoustic and impact values.
Fully weatherproof, designed to be used externally*.