An Attic Conversion Can Boost the Price of Your House
Tuesday, April 11th, 2017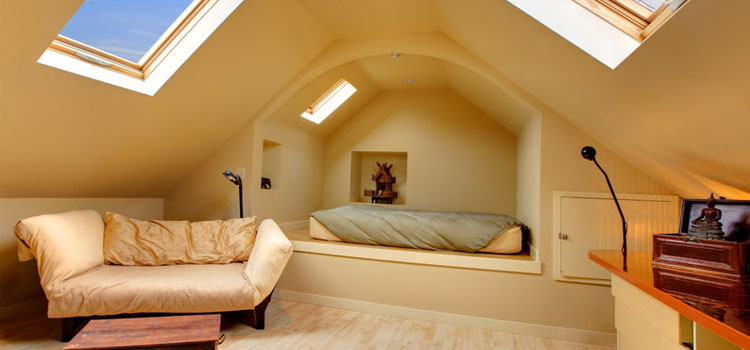 Attic Conversion
The easiest way to get an extra bedroom in your home is by getting an attic conversion/loft conversion done. Not particularly disruptive, either, as most of the work can be done from outside. The key thing is to make sure access to the attic/loft is easy and that the conversion fits the rest of the house, rather than looking grafted on. You will have to strengthen the floor joists, which will raise the floor level, so make sure you leave yourself with sufficient ceiling height to stand up in.
The first thing to do before you start dreaming about what to do with the extra room in your home is to see if your attic/loft is suitable for a conversion. Dublin houses often only have space for storage. A good rule of thumb is that over 60% of your attic should have enough room for a large man to stand comfortably without risking a head injury.
A good contractor will see if there is enough room under the house's roof ridge. The contractor will measure up the attic and the access area to see if it is suitable for a conversion. The contractor will look for rainwater that comes into the attic. If problems are seen, the contractor may repair the roof. Roof repairs will also be needed if you decide to install a dormer window. By adding a roof window it will bring extra light and brighten up the new room.
What is an RSJ's ?
Reinforced steel joist, these are large steel beams that are installed and anchored into your gable walls in the attic.

Vertical props are then inserted between the rafters and the new beam. These steel beams also carry the new floor joist for the attic, which runs perpendicular to the beams. This means that they carry the weight applied to the attic floor and not the original ceiling joist, which would lead to cracks in the plasterboard ceiling in bedrooms below.

By not installing reinforced steel joist you will run the first of a sagging roof as a result.

Planning Permission
Planning permission is not always required when you are doing an attic conversion in Ireland. No planning permission is needed if you are converting the attic for storage but not all attic conversions are used for storage, many people will use them as an extra bedroom.

If you are selling your home you will not be able to count the converted attic as a bedroom unless it has been officially sanctioned by your local county council.

If you are changing the structure of your home by erecting a dormer window or installing a VELUX window to the front of your home, then you will certainly need to apply for planning permission but a VELUX on the back of your house you do not need planning permission.
If you decide to convert your attic/loft, it will give you an extra bedroom or room in your home and it is one of the best ways to increase your home's value. The process will take some time and money, but the end result will be worth the effort and expense.
Contact Pinnacle Construction today and get a free no obligation quotation for an attic conversion in Dublin.
Latest posts by Martin Grogan
(see all)
---