Do you Need Steel Beams in an Attic Conversion in Dublin
Tuesday, April 11th, 2017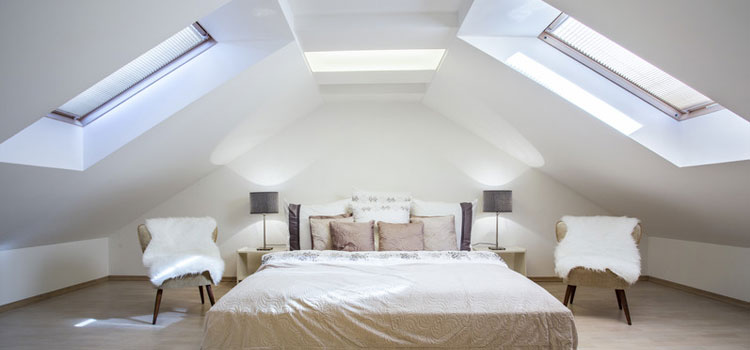 Do you need steel beams for support?
The short answer is YES.In almost all attic conversions steel beams are necessary for supporting the roof. Over the years we have come across attics conversions that customers have asked used to redo because no steel beams were used in the original conversion and as a result, the house roof has sagged in the centre.
Preparatory Steps for an Attic Conversion
The first thing to do when converting an attic or loft is to install RSJ's (Reinforced Steel Joist).
What is an RSJ's ?
Reinforced steel joist, these are large steel beams that are installed and anchored into your gable walls in the attic.

Vertical props are then inserted between the rafters and the new beam. These steel beams also carry the new floor joist for the attic, which runs perpendicular to the beams. This means that they carry the weight applied to the attic floor and not the original ceiling joist, which would lead to cracks in the plasterboard ceiling in bedrooms below.

By not installing reinforced steel joists in your attic conversion you will run the risk of a sagging roof as a result.

Storage Space
There will be additional batons fitted to the steel beams to provide support for the roof as well as the structure for the low-rising walls in the new room. The crawl space on the inside of these new rising walls can be used for storage.

Suspended Floor
A suspended floor is one that is not resting on the ceiling. It has its own separate set of flooring joists. Its function is to support the weight of the attic floor, so it is completely independent of the existing ceiling and it is suspended from the RSJ's.

Water Tank
Normally the water tank is installed in the centre of the attic. This tank must be moved from this position into the crawl space so that it is out of sight while still accessible. The move involves running new pipes to the new location of the water tank.

Water tanks are typically relocated under the eaves area, with access provided by a hatch. If you have an old metal tank, then it is an ideal time to change it into a plastic one.

Contact Pinnacle Construction today and get a free no obligation quotation for an attic conversion in Dublin.
Latest posts by Martin Grogan
(see all)
---